THE RUMBA KINGS
07.10 – 19:30
USA/RDC, 2021
Documentary, Colour, 94′.
French and Lingala, subtitled in Spanish.
PREMIERE IN THE BASQUE COUNTRY.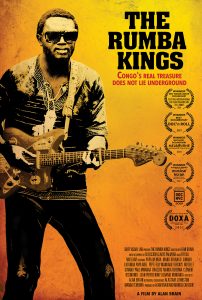 Directed by Alan Brain
Production Monica Carlson, Alan Brain
Photography Alan Brain
Sound Mirella Bellido
Original music Brian Steckler
Editing Alan Brain
Starring Brazzos, Guvano, Kuka Mathieu, Manu Dibango, Papa Wemba, Pépé Felly Manuaku, Petit Pierre, Roitelet, Simaro Lutumba, Antoine Manda Tchebwa, Clémet Ossinonde, Jean-Pierre François Nimy, Lubangi Muniania,
Synopsis: The Rumba Kings celebrates the epic story of the Democratic Republic of the Congo, an African nation that fought colonial oppression, found freedom and forged a new identity through music. In the 1950s, when the Democratic Republic of Congo was a Belgian colony, a generation of Congolese musicians fused traditional African rhythms with Afro-Cuban music to create the electrifying rhythm of the Congolese rumba. A rhythm that would accompany the Congo through its independence and conquer the entire African continent with its infectious rhythm, captivating guitar phrasing and accomplished vocal harmonies.
FESTIVALS and AWARDS: Best Documentary Film Festival Int. Du Cinema Panafricain de Cannes 2021; Best Documentary DOC'n ROLL Film Fest, UK 2021; Best Music Documentary Melbourne Doc. Film Fest 2021; Best Documentary Utopia FF 2021; Best Documentary Kinshasa IFF 2022; Audience Award Musical Écran 2021; Music Moving Mountains Award MAUI FF 2021; Special Jury Mention Montreal IFF 2021; Official Selection Sydney FF 2021; Official Selection DOC NYC 2021; Official Section DOXA 2021; Official Section Brussels IFF 2021; Official Section AFRIKA FF 2021; Official Section San Francisco Frozen FF 2021; Official Section In-Edit Brasil 2021; Official Section Seattle Latino Film Festival 2021; Official Section FCAT 2022.