Music Is My Life – Joseph Shabalala and Ladysmith Black Mambazo
03.10 – 19:00
NATIONAL PREMIERE
South Africa, 2022
Documentary, 90'
English, VOSE
Director: Mpumi 'Supa' Mbele  
Screenplay: Mpumi 'Supa' Mbele 
Cinematography: Michael Smith (C) 
Editing: Khulekani Zondi, Andrew Wessels 
Music: Ladysmith Black Mambazo 
Archivist: Nhlanhla Mthethwa 
Cast: Whoopi Goldberg, Dolly Parton, Paul Simon, Miriam Makeba, Hugh Masekela, Ophrah Winfrey, Joseph Shabalala, Thulani Shabalala, Jabulile Shabalala, Dr Sipho Sithole, Sibongiseni Shabalala, Msizi Shabalala, Nelly Shabalala, Thokozile Veronica Shabalala, Thamsanqa Shabalala, Linda Bukhosini, Albert Mazibuko, Rob Allingham, Nduduzo Makhathini, Sipho 'Hotstix' Mabuse, West Nkosi, Vusi Mahlasela, John Lindemann,  
Producers: Free Women Films (Carolyn Carew), Spek Up Films (Judy Nwokedi) and Dr Joseph Shabalala Foundation (Thokozile Veronica Shabalala)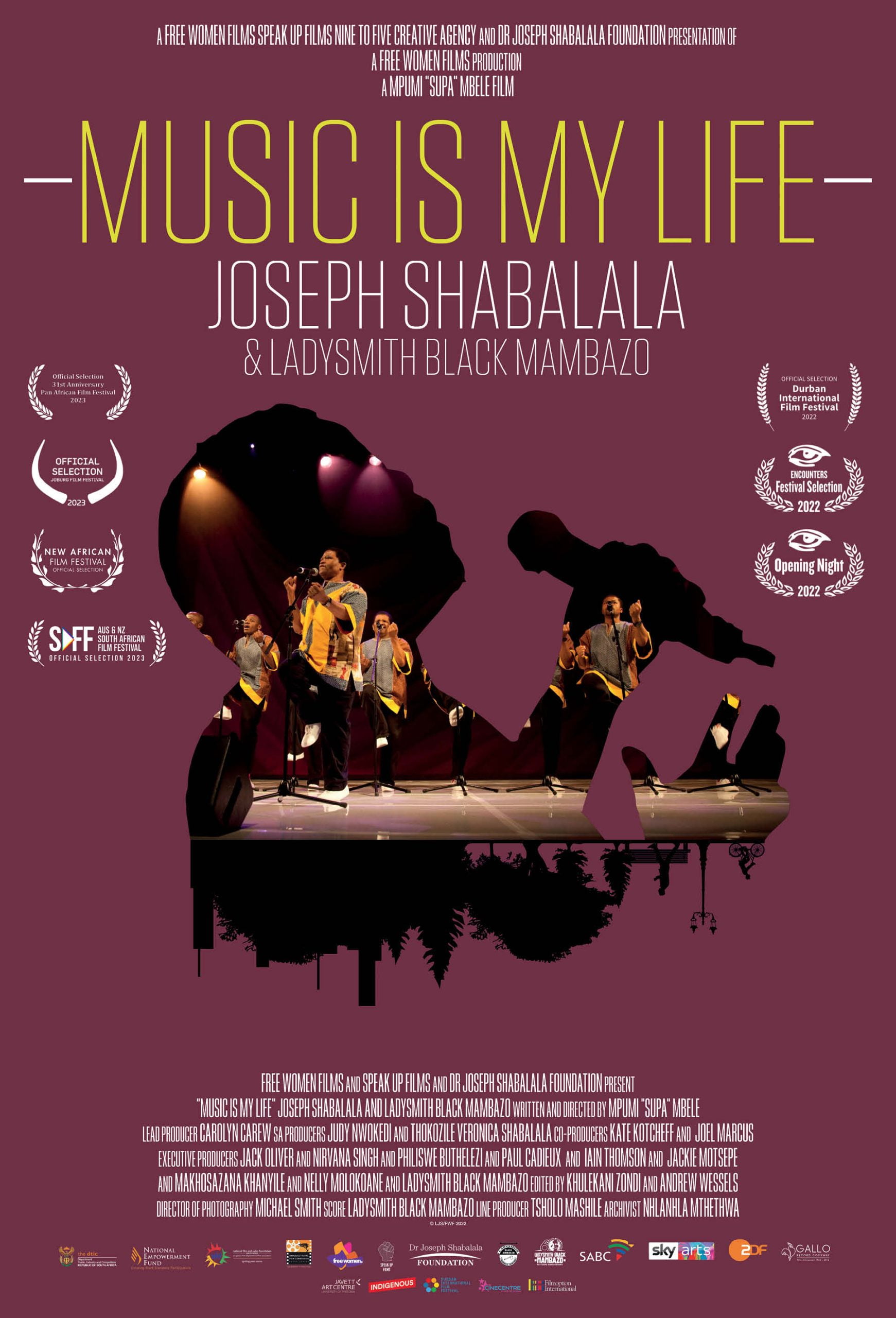 Synopsis 
'Music Is My Life' tells the remarkable and unknown story of the late great Dr. Joseph Shabalala, founding member and leader of South Africa's multi-Grammy award winning group Ladysmith Black Mambazo. The film reveals how a young man from a rural village called Ladysmith in 1960s South Africa came to sell out shows and become a worldwide musical visionary, capturing the hearts of so many with his beautiful unique sounds. A music icon, he had no musical training, and yet successfully composed over 1000 songs and his group released over 60 albums until his passing in 2020, at the age of 79. 
Filmed over five years, and featuring previously unseen archive and music, including exclusive interviews with the Shabalala family, and stars like Dolly Parton, Paul Simon, Oprah Winfrey, and Whoopi Goldberg, Music is my Life gives us extraordinary access to Shabalala's creative process. This film is an engaging tribute to one of the country's most distinct musical forms – Isicathamiya music– its political implications, and the man with the beautifully resonant voice who made it famous.