OTITI
04.10 – 17:00;19:30
Nigeria/USA, 2022
Fiction, Colour, 95′.
English pidgin, subtitled in Spanish.
EUROPEAN and NATIONAL PREMIERE.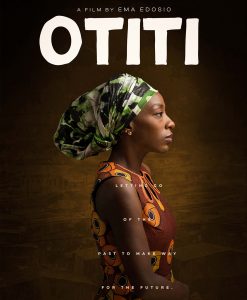 Directed by Ema Edosio
Original Story Ema Edosio
Script Chijioke Ononiwu
Production Bliss Productions, Clocktower Tax Credits
Producers Ema Edosio, Nunu Deng, Jeff Jacobson, Linda A. James, Shelly Cohen
Photography Yemi Adeojo
Sound Panos Chountoulidis
Editing Ema Edosio
Starring Toyin Oshinaike, Charles Etubiebi, Tessy Brown, Chimezie Imo, Yinka Davies, Emem Isaac, Gbenga Kelly, Mary Agholor, Gina Castel, Obi Maduegbuna, Tunde Daniels, Osagie Solomon, Toritseju Ejoh, Casmir Chibuike, Chioma Orji
Synopsis: A seamstress with a fear of commitment takes care of her sick father who abandoned her as a child while her stepbrothers are positioning themselves to take over his property.
FESTIVALS and AWARDS: Premiere at the Mostra de cinemas africanos de Brasil 2022; European premiere at AFRIKALDIA.