I AM SAMUEL
04.10 – 17:30
Kenya/Canada/UK/USA, 2020
Documentary, Colour, 69′.
Swahili and English, subtitled in Spanish.
PREMIERE IN THE BASQUE COUNTRY.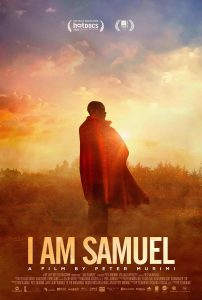 Directed by Peter Murimi
Production We Are Not the Machine
Producers Toni Kamua, Peter Murimi, Judy Kibinge, Peter Mudamba, Ross Roger Williams
Script Peter Murimi, Ricardo Acosta
Photography Peter Murimi, Elijah Kanji, Sam Soko, Chris King
Music Eric Wainaina
Editing Ricardo Acosta, Phil Jandaly
Synopsis: Samuel grew up in the Kenyan countryside, where tradition is valued above all else. He is very close to his mother, but his father, a local pastor, doesn't understand why he hasn't married yet. After moving to the capital (Nairobi) in search of work and a new life, Samuel falls in love with Alex and finds community and roots. Their love thrives Kenyan laws criminalising anyone who identifies as LGBTQ+. Despite threats of violence and rejection, Samuel and Alex move between co-existing worlds, hoping to be accepted in both.
FESTIVALS and AWARDS: Inside Out Toronto LGBT FF 2020 Official Section; SFiFF 2020 Official Section; BFI London Film Festival 2020 Official Section; HotDocs 2020 Official Section; Film Africa 2020 Official Section; Atlanta FF 2020 Official Section; Africa in Motion 2020 Official Section; Human Rights Watch FF 2020; Chéris-Chéris 2021; MIX Copenhagen LGBTQ+ FF 2021.