FEMMES SUSPENDUES
05.10 – 17:00;19:30
Morocco/France/Qatar, 2021
Documentary, Colour, 73′.
Arabic, subtitled in Spanish.
PREMIERE IN THE BASQUE COUNTRY.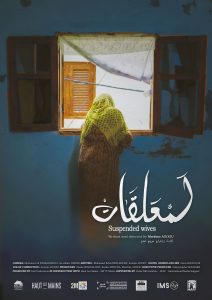 Directed by Merième Addou
Producer Karim Aitouna
Production IrisProd, Haut Les Mains
Photography Mohamed Ali Saghraoui, Az-eddine Idrissi
Sound Sara Kaddouri
Editing Mohamed Ikbal Benlahcen- Antoine Rodet
Synopsis: Suspended Women describes the struggle of Ghita, Latifa and Saadia, three women abandoned by their husbands who, after years of interminable waiting, go to the court in their region to ask for a divorce. The court proceedings force each of them to prove the absence of their husbands: an absurd and painful obstacle course that they are not sure they can overcome.
FESTIVALS and AWARDS: FICFA – Le Festival Int. Du Cinéma Francophone in Acadie (Canada) 2021; Munich International Documentary Film Festival 2021; Cinemamed – Festival Cinéma Méditerranéen de Bruxelles 2021; Mostra internacional de films de dones de Barcelona 2021.