Vuta N`Kuvute
07.10 – 22:00
Tanzania/ South Africa/Qatar/Germany, 2021
Fiction, Colour, 90′.
Swahili and English', subtitled in Spanish.
NATIONAL PREMIERE.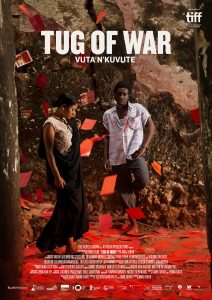 Directed by Amil Shivji
Production Steven Markovitz, Amil Shivji
Producers Big World Cinema, Kijiweni Productions
Based on a novel by Shafi Adam
Script Amil Shivji, Jenna Cato Bass
Photography Zenn Van Zyl
Original music Amine Bouhafa, Amélie Legrand
Editing Nadia Ben Rachid, Matthew Swanepoel
Main actors Gudrun Columbus Mwanyika, Ikhlas Gafur Vora, Siti Amina
Synopsis: A young revolutionary militant against British rule and his runaway girlfriend find their romance in Zanzibar in the 1950s shaken by harsh waves of colonial repression. This film adaptation of Amil Shafi's Swahili novel of the same name is the first Tanzanian feature film to be screened at festivals and captures as never before the historical tensions of a time – shortly after the end of the East African slave trade – and a place – Zanzibar, the hub of this market – central to the history of the continent and the world today.
FESTIVALS and AWARDS: Oumarou Ganda Award at FESPACO 2021; Best Fiction Feature at Palm Springs IFF 2022; Premiere at TIFF 2021; Special Jury Prize at Seattle IFF 2022; New York African Film Festival; Best East African Film, Actor and Film at Zanzibar IFF 2022; Mostra de cinemas africanos de Brasil 2022; Durban IFF 2022; Festival Cinemas d'Afrique in Lausanne 2022; Black Star IFF in Philadelphia 2022.