UNE HISTOIRE D'AMOUR ET DE DÉSIR
05.10 – 22:00
Tunisia/ France, 2021
Fiction, Colour, 102′.
French and Arabic, subtitled in Spanish.
PREMIERE IN THE BASQUE COUNTRY.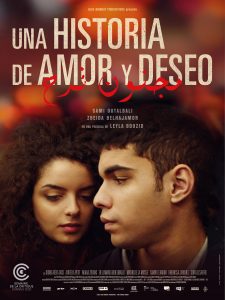 Directed by Leyla Bouzid
Script Leyla Bouzid
Production Sandra da Fonseca
Production company Blue Monday Productions
Photography Sébastien Goepfert
Sound Nassim el Mounabbih, Niels Barletta and Antoine Baudoin
Original music Lucas Gaudin
Editing Lilian Corbeille
Main actors Samil Outalbali, Zbeida Belhajamor, Diong-Kéba Tacu, Aurélia Petit, Mahia Zrouki, Bellamine Badelmalek, Mathilde Lamusse, Saimr Elhakim
Synopsis: 18-year-old Ahmed, a Frenchman of Algerian origin, grew up in the suburbs of Paris. At the university, he meets Farah, an energetic young Tunisian woman who has just arrived in Paris. While discovering a collection of sensual and erotic Arabic literature that he never imagined existed, Ahmed falls madly in love with Farah and, although he is literally overwhelmed by desire, he will try to resist it.
FESTIVALS and AWARDS: Closing film at Cannes Critics' Week 2021; Best Film Award and Valentina Pedicini Award at Roma MedFilm Fest 2021; Best Male Performance Award at Angoulême Film Festival 2021; Bronze Etalon at FESPACO 2021; Golden Tanit Nomination at Carthage 2021; Golden Spike Nomination at Valladolid SEMINCI 2021; Nomination for Best Actor at the César Awards, France 2022; Nomination for Best Film at Göteborg IFF 2022; Nomination for the Audience Award at Kerala IFF 2022; Nomination for Best New Actress (Zbeida Belhajamor), Best New Actor (Sami Outalbali) and Best Screenplay (Leyla Bouzid) at the Lumiere Awards, France 2022.