LE DERNIER REFUGE
05.10 – 17:30
Mali/France/South Africa, 2021
Documentary, Colour, 85′.
Bambara, Moré, French and English, subtitled in Spanish.
PREMIERE IN THE BASQUE COUNTRY.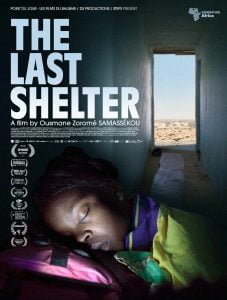 Directed by Ousmane Samassekou
Production DS Productions, Les films du Balibari, STEPS, ARTE G.E.I.E.
Photography Ousmane Samassekou, Amath Niane
Sound Adama Diarra, Jean-Marc Schick
Editing Céline Ducreux
Synopsis: For decades, the town of Gao in Mali has been a peaceful peace for African travellers. There, at the gates of the Sahel desert, where the Migrant House is, which welcomes thousands of people every year: those still full of hope on their way to Europe and those whose luck has changed and who are on their way back to their hometown and family. Two teenage girls and a mature woman, lying in a small room, talk about their dreams and their personal stories. In another part of the house, young men watch a wrestling match on TV, listen to music, play cards and escape from reality. What does it feel like, what does it take, when our dreams have been buried in the sand or are waiting to be lived?
FESTIVALS and AWARDS: Silver Tanit for Best Director at Carthage 2021; Best Documentary at CPH: DOX, Denmark 2021; Nomination for Best Documentary at Hot Docs Canada 2021; Nomination for Best Documentary at Dokufest International Dcumentary and Short Film Festival Germany 2021; Nomination for Best Documentary at Chicago IFF 2021; Nomination for Amnesty International's Poland Award at Millennium Docs Against Gravity 2021; Official Selection at FCAT 2021; Nomination for Best Documentary at One World Media Awards 2022; Nomination for Best Documentary at Seattle IFF 2022.