FREDA
07.10 – 17:30
Haiti/ France/Benin, 2021
Fiction, Colour, 93′.
French Creole, subtitled in Spanish.
PREMIERE IN THE BASQUE COUNTRY.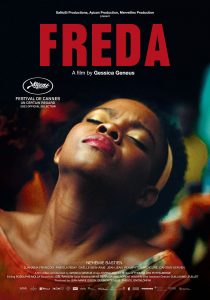 Directed by Gessica Généus
Script Gessica Généus
Production Jean-Marie Gigon – SaNoSi Productions; Gessica Généus – Ayzan Production; Faissol Gnonlonfin -Merveilles Production
Photography Karine Aulnette
Sound Thomas Van Pottelberge
Editing Rodolphe Molla
Starring Néhémie Bastien, Fabiola Rémy, Djanaïna François, Jean Jean, Gaëlle Bien-Aimé, Rolaphton Mercure, Paula Clermont Pean
Synopsis: Freda lives with her mother, sister and younger brother in a poor neighbourhood in Port-au-Prince, the capital of Haiti. The family survives thanks to a small grocery store. Faced with precariousness and increasing daily violence, each of them wonders whether they should stay or flee the country. Willing to give up her own happiness, Freda decides to believe in the future of her country.
FESTIVALS and AWARDS: François Chalais Award and Un Certain Regard nomination at Cannes 2021; Audience Award and Discovery Prize for Best First Film at Namur IFF for Francophone Films 2021; Best Sound at FESPACO 2021; Knight Marimbas Award to Gessica Généus at Miami Film Festival 2022; Nomination for the Grand Prix de la Ville de Lisbon at IndieLisboa IFF 2022.