FEATHERS
04.10 – 22:00
Egypt/Netherlands/Greece/France, 2021
Fiction, Colour, 112′.
Arabic, subtitled in Spanish.
PREMIERE IN THE BASQUE COUNTRY.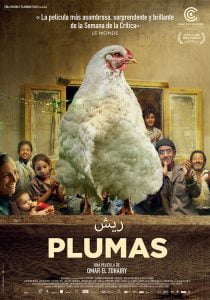 Directed by Omar el Zohairy
Script Ahmed Amer, Omar El Zohairy
Production Juliette Lepoutre
Co-production Mhamed Hefzy, Shadinaz Al Akkad, Derk-Jan Warrink, Koji Nelissen, Giorgos Karnavas, Konstantinos Kontovrakis, Verona Maeier, Pierre Menahem
Photography Kamal Samy
Sound Ahmed Adnan
Editing Hisham Saqr
Main actors Demyana Nassar, Samy Bassiouny, Fady Mina Fawzy, Abo Sefen Nabil Wesa, Mohamed Abd El Hady.
Synopsis: At a children's birthday party, a magician turns the child's authoritarian father into a chicken. The family's problems begin when the magician is unable to reverse the transformation. The self-sacrificing mother will have to take matters into her own hands to brings her family up in a patriarchal society that will not make things easy for her. As she moves heaven and earth to bring back her husband and ensure her survival, the woman will undergo a total transformation.
FESTIVALS and AWARDS: Grand Critics' Award and FIPRESCI Award in Parallel Section at Cannes 2021; Best Actress (Demyana Nassar), Best Screenplay (Ahmed Amed and Omar El Zohairy), Best First Film and Golden Tanit for Best Film at Carthage IFF 2021; Best Arab Film and Variety Award at El Gouna IFF 2021; Best Film at Auteur Film Festival 2021; Best International Film at Calgary IFF 2021; Special Jury Award at Torino Film Festival 2021; Best Film at Roberto Rossellini Awards at Pnigyao IFF 2021; Best Film Critics Award and Jury Award for Best Actress at Fest. Int. Cinéma d'Auteur de Rabat 2022; Best Director and Best Screenplay at The Critics Awards for Arab Films 2022; Best Film at Karama Human Right FF 2022; Best Greek Co-Production at Hellenic Film Academy Awards 2022.